Celebration of Aisling's Life - 6 Jan 2012
Aisling's battle with Cystic Fibrosis finally ceased on Fri 23 Dec 2011
This section of the website comprises a celebration of her brief yet full life
Click the titles below to read the full articles
Aisling loved monkeys
Here is Aisling's facebook portrait>>>
She regulalry followed the on-going stories of a TV program dedicated to the Chimps and Orang Utangs at Monkey World, Dorset. We visited there several times too.
Aisling was also famous for blowing up her lips and doing her impression of a monkey face.
She wore pyjamas covered in Cheeky Monkey's so it seemed fitting to have flowers to reflect this.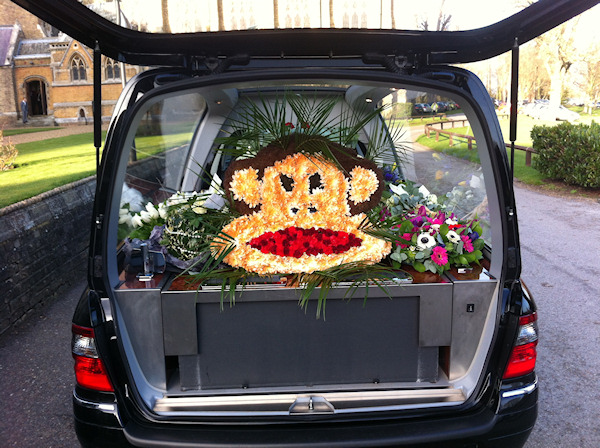 Eulogy spoken by Dad (Denis O'Regan) - 6 Jan 2012
Who watches X Factor? My betting is you fall into one of two camps - You're either an avid fan following the stories of each contestant week by week or I know some of you are sitting here thinking it a load of old cods wallop.

Played at Aisling's celebration by her Dad (Denis)
Aisling, I have no more words for you - where words fail, music can say so much more - so I would like to dedicate this little piece of music to you...
Eulogy written by Chris Carey (fiancé) - 6 Jan 2012
There once was a girl who dreamed of a life filled with love and happiness. When she was well enough to travel she visited Slovenia twice. She began to collect little hearts. Spending her last little bits of money on the tiniest objects, but they meant so much to her. She told me that no matter how far apart everything seems, she loves me, and will wait for me.
Eulogy written by Abbey Hider (Bridesmaid to be) - 6 Jan 2012
"Life does not throw at you things that you are unable to handle" was a quote that I repeated to my friend in her final months. Aisling not only handled what was thrown at her, but she managed to maintain a positive state of mind and a fantastic sense of humour at the same time. With a courage that only she could demonstrate, Aisling looked to the future and her marriage to Chris, which everyone was looking forward to. Her intelligence and spark went into everything she did - particularly (in my opinion), her writing, which I regularly told her could provide her with a career in itself.
Eulogy written by Mum (Carol O'Regan) - 6 Jan 2012
Aisling was our gift from God, and today we, her proud parents, are giving her back and celebrating her truly remarkable spirit for "life-in-the-fast-lane".
Freedom and independence, dance and music, academic success, were won and methodically worked out despite a lifetime of disruption and tough & inescapable drugs and treatment.
The Celebration of the life of
St Edmunds College, Old Hall Green, Ware, Herts SG11 1DS